Contact Us
>>Detail
Shenzhen Daping Computer Co., Ltd.
Email:
Office : +86-755-23322627
Tel/Whatsapp : 008613537897370
Skype : daping_securityfactory
Add 1:Floor 3, A Building ,Cunnan Industrial,Long'hua New District,
Shenzhen City,Guangdong Province,China (factory)
Add 2: FLAT B07 FLOOR23,HOVER INDUSTRIAL BUILDING,
NO.26-38 KWAI CHEONG ROAD,N.T,HONG KONG
AG-security LCD home alarm system DP-500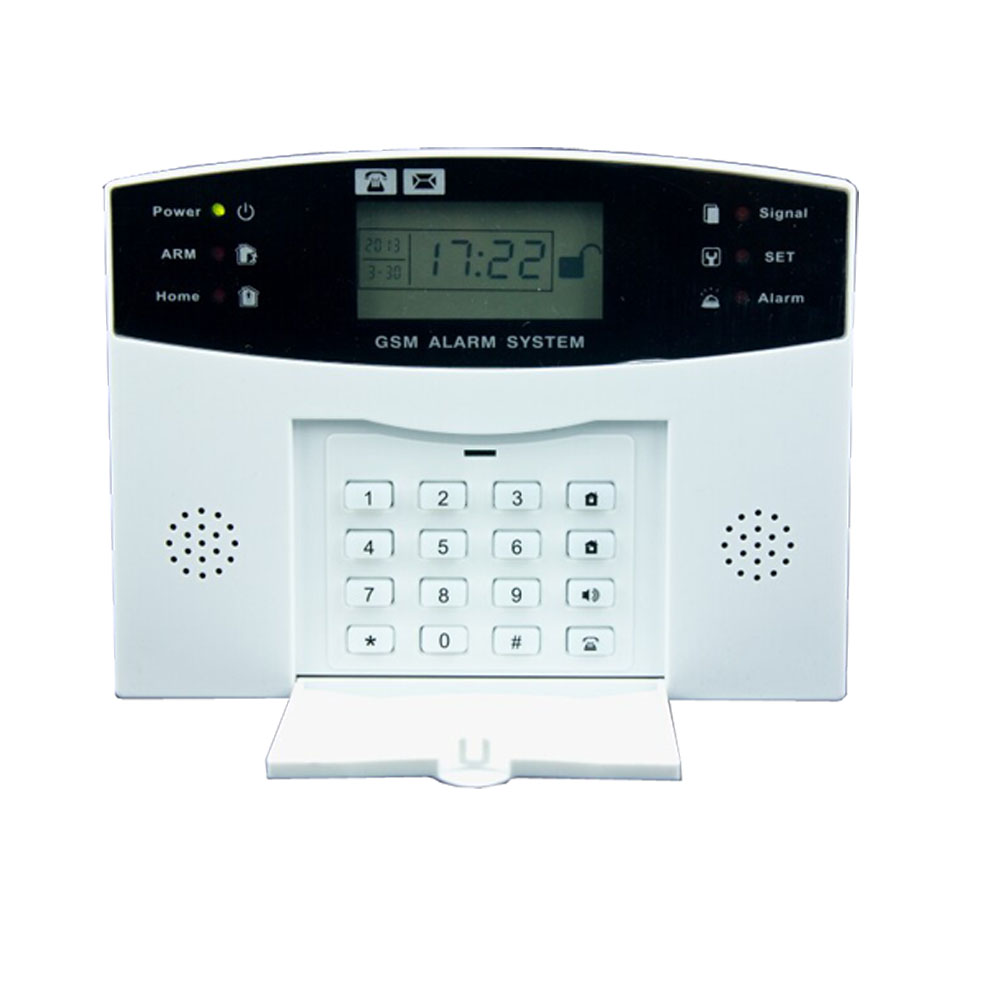 UPC CODE:697691728520
Function:

1.Apply advanced mobile communication technology,support SMS and dialing alarm
2.8 Wired defense zones and 100 wireless defense zones;
3.At most 5 wireless remote control codes;
4.LCD display. Build-in clock. Operate easy
5.Sound prompt for all operations;
6.SMS prompt automatically about low power of battery;
7.SMS prompt when AC power lost and recover
8.Can store 6 group of phone numbers:when alarming,system will make alarm call to htese numbers automatically;
9.Can store 2 group of SMS numbers:when alarming,system will send alarming SMS automatically;
10.Can store 2 group of call number about alarm receiving center
11. 10-second automatic message recroding;
12.Build-in artificial inelligent digital voice announcer;
13.Users can make calls by using keypad on alarm panel,just like a telephone;
14.One-key-control functon:Out Arm,Home Arm,Remote Arm;
15.SOS,fire,gas,door,hall,window,balcony,and perimeter places alarm;
16.Real-time,delay,24 hours,bypass defense zones programming function;
17.Wireless coding:easy to add additional wireless accessories;
18.Remote control Arm,Disarm,Monitor,and Intercom by phone;
19.Built-in AAA NI-HI rechargeable
20.Comply with CCC safety standard and GB12663-2001 national standard.
Technical specifications:
GSM Control Panel
Input Voltage

DC12V/1.2A

Standby Current

<55mA

Alarming Current

<450mA

Wireless Frequency

433MHz

GSM Frequency

850/900/1800/1900MHz

Sensors

can store Max. 99 wireless sensors

Remote Controllers

can store Max. 8 wireless remotes

Wired Sensor

can connnect Max. 7 wired sensors

Back-up Battery

can last 4 hours when power cut off

Siren

only support one wired siren OR more wireles sirens but with same transmitter
Wireless Gap Detector (Door / Window Contact)
Power Supply

DC12V/23A Battery

Static Current

≤20 mA

Transmission Current

≤15mA

Transmission Frequency

433MHZ ± 0.5MHZ

Transmission Distance

About 30m with one barrier

Internal Distance

15 mm

Working Condition
Temperature –10℃~+ 40

℃
Humidity
≤

90% rh
Battery Life Time

About 6 months
Wireless P.I.R Motion Detector
Power Supply

DC9V (6F22 battery)

Transmission Current

≤20mA

Static Current

≤10mA

Wireless Frequency

433MHZ ± 0.5MHZ

Transmission Distance

About 30m with one barrier

Detective Speed

0.3 - 3m/s

Detective Distance

5 - 12m

Detective Range

Horizontal 110° Vertical 60°

Battery Life Time

About 6 months

Working Condition
Temperature –10

℃~+ 40

℃
Humidity
≤

90 rh
Battery Life Time

About 6 months
Remote Controller (Keyfobs)
Static Current

0

Emission Current

≤15 mA

Transmission Frequency

433MHZ ± 0.5MHZ

Emission Speed

T≤1 second

Emission Distance

About 30 meters

Working Condition
Temperature –10

℃~+ 40

℃
Humidity
≤

90 rh
Battery Life Time

About 6 months
We have more Wireless&Wired Sensors/Detectors for you choose, if you have any necessary or specific requirement, please feel free to contact us:
DP-500 operation
https://www.youtube.com/watch?v=V4aDIs2Zu0w
set 1234 ARM/dismarm for dp-500
https://www.youtube.com/watch?v=vzkXqkfAcJM
how to learn the outdoor siren for ag-security dp-500 gsm alarm system
https://www.youtube.com/watch?v=gelDzZCh2W0
alarm DP 500 with ip camera
https://www.youtube.com/watch?v=jBESJATQlUs