Contact Us
>>Detail
Shenzhen Daping Computer Co., Ltd.
Email:
Office : +86-755-23322627
Tel/Whatsapp : 008613537897370
Skype : daping_securityfactory
Add 1:Floor 3, A Building ,Cunnan Industrial,Long'hua New District,
Shenzhen City,Guangdong Province,China (factory)
Add 2: FLAT B07 FLOOR23,HOVER INDUSTRIAL BUILDING,
NO.26-38 KWAI CHEONG ROAD,N.T,HONG KONG
gsm security wireless alarm system with sms message and call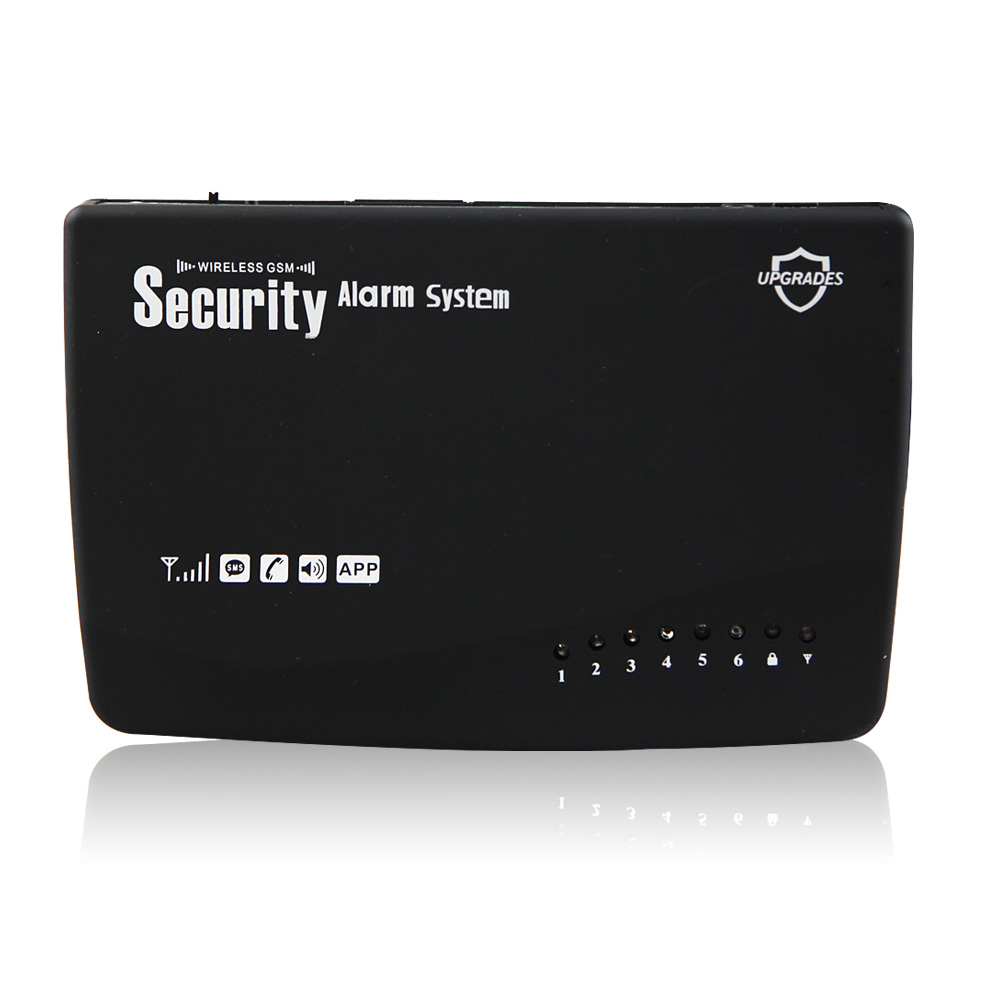 gsm security wireless alarm system with voice prompt for commercial and home use is built on leading microprocessor technology with advanced GSM digital signal processing power. It is a highly integrated system of digital speech, mobile messages, multiple modes of wireless coding, long-distance home appliances controlling, SMS Messages identification and other technologies. When alarming, it will automatically notify users via mobile network about the possible break-in using either voice calling or SMS messaging. It is stable, reliable and safe.
Features:
1. Work with GSM SIM card, and voice prompt, ease of use.
2.Two groups of Scheduled Arming and Disarming function. Each time disarmed you can select the included period of time, eliminating of need of the manual procedure, realizing the beauty of automatic controls
3. Four wired zone, six wireless zone, can be set as AWAY , STAY , INTELLIGENT or CLOSED types ,and each zone can be equipped with many accessories
4. Using phone (cellular phone) or SMS Messages to configure and control the Panel remotely.
5.Sound prompt for all operations;
6.SMS prompt automatically about low power of battery;
7.SMS prompt when AC power lost and recover
8.Six groups of phone numbers for voice calling and three groups for SMS Messages, 10 seconds ISD automatic leaving message record
9. Telephone (phone) long-distance telephone control for arming, disarming, monitoring, remote announcement
10.Can store 2 group of call number about alarm receiving center
11. 10-second automatic message recroding;
12.One group of normally open signal output, which can be externally linked to electrical appliances with alarming output
13. Many built-in speeches, letting alarm receivers know the accurate alerting location
14. SMS Messages content from alarming Defense zone can be customized.
15.Wireless intelligent study coding, compatible with PT2262 normal encoding and a million groups encoding, convenient and flexible for adding or reducing accessories. Maximum support 50 remote control and 50 sensors.
16. Telephone (phone) long-distance telecontrol for arming, disarming, monitoring.

Technical specifications:
| | |
| --- | --- |
| Input Voltage | DC12V/1A |
| Standby Current | <55mA |
| Alarming Current | <450mA |
| Wireless Frequency | 433MHz |
| GSM Frequency | 850/900/1800/1900MHz |
| Sensors | can store Max. 50 wireless sensors |
| Remote Controllers | can store Max. 50 wireless remotes |
| Wired Sensor | can connnect Max. 4 wired sensors |
| Back-up Battery | can last 8 hours when power cut off |
| Relay Output | 1 * NO/COM Realy Output |
| Loudspeaker Output | 1 * Loudspeaker Output |
| Siren | only support one wired siren and more wireles sirens but with same transmitter |
Wireless Gap Detector (Door / Window Contact)
Power Supply
DC12V/23A Battery
Static Current
≤20 mA
Transmission Current
≤15mA
Transmission Frequency
433MHZ ± 0.5MHZ
Transmission Distance
About 30m with one barrier
Internal Distance
15 mm
Working Condition
Temperature –10°C~+ 40 °C
Humidity
≤ 90% rh
Battery Life Time
About 6 months
Wireless P.I.R Motion Detector
Power Supply
DC9V (6F22 battery)
Transmission Current
≤20mA
Static Current
≤10mA
Wireless Frequency
433MHZ ± 0.5MHZ
Transmission Distance
About 30m with one barrier
Detective Speed
0.3 - 3m/s
Detective Distance
5 - 12m
Detective Range
Horizontal 110° Vertical 60°
Battery Life Time
About 6 months
Working Condition
Temperature –10 °C~+ 40 °C
Humidity
≤ 90 rh
Battery Life Time
About 6 months
Remote Controller (Keyfobs)
Static Current
0
Emission Current
≤15 mA
Transmission Frequency
433MHZ ± 0.5MHZ
Emission Speed
T≤1 second
Emission Distance
About 30 meters
Working Condition
Temperature –10 °C~+ 40 °C
Humidity
≤ 90 rh
Battery Life Time
About 6 months