Contact Us
>>Detail
Shenzhen Daping Computer Co., Ltd.
Email:
Office : +86-755-23322627
Tel/Whatsapp : 008613537897370
Skype : daping_securityfactory
Add 1:Floor 3, A Building ,Cunnan Industrial,Long'hua New District,
Shenzhen City,Guangdong Province,China (factory)
Add 2: FLAT B07 FLOOR23,HOVER INDUSTRIAL BUILDING,
NO.26-38 KWAI CHEONG ROAD,N.T,HONG KONG
WiFi GSM smart alarm system support IOS APP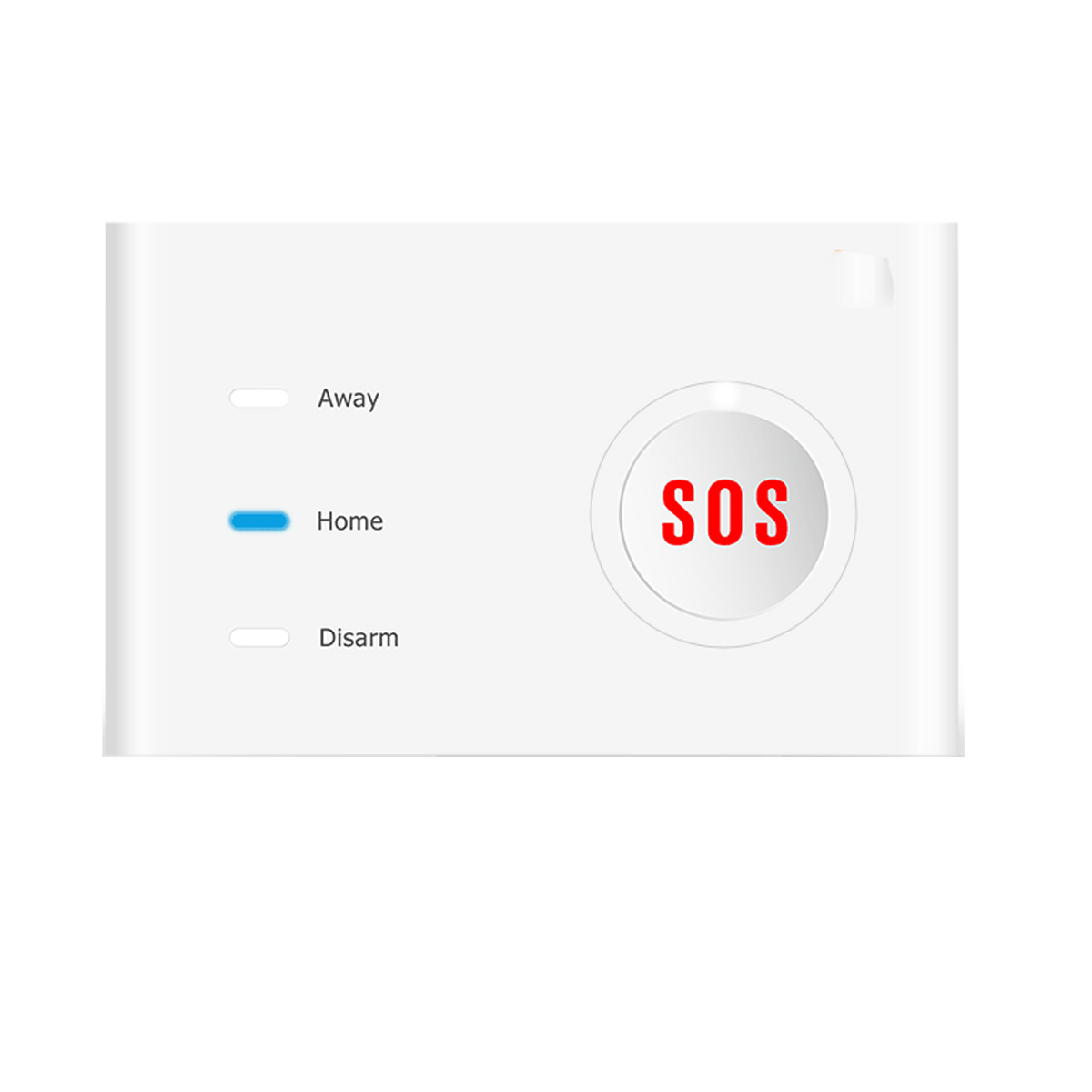 WiFi GSM smart alarm system support IOS APP
APP name of Google play adnd APP store : Wisen
X10 user manual
https://drive.google.com/file/d/0B7n_fXsfkaq7TWQ3dGZLYVNhZmc/view?usp=sharing
X10 main panel
https://drive.google.com/file/d/0B7n_fXsfkaq7UE9yTVNDc0x5eTg/view?usp=sharing
Advantages of WI-FI GSM GPRS alarm system :
1.APP application on smartphone and WIFI free push .
2.Smart zone function ,check door and windows statue .
3.Work with doorbell, SOS
4.Zone name can be modify ,to see who is back to home .
5.APP control RF power socket to control light and electric kettle .
Welcome to download our APP to see how the system works !!
Innovative GSM & WIFI dual network operating platform. On WIFI network, the alarm system will work

without any fee. If no WIFI, it will work on GSM automatically. With state-of-the-art WIFI network technology,

the system more stable, safer.

Two-way communication, keep checking the commnunication between the panel and accessories, make

sure the system safer.

Support doorbell function, SOS panic function.
1 slave wired relay output, support alarm output, APP control output.
20 slaves wireless smart home control to switch light, and other home appliances. Set up to 4 scenes, 8

slaves relay per scene.

Wireless encode function, support 10 keyfobs/keypads, 24 wireless zones, 4 wired zones & 4 RFID zone.
Zone name/content could be edited by yourself, and set alarm delay or not.
APP push message including alarm zone and sensor's name when alarming.
APP check the system in real-time: AC power OK or not; system Arm or Disarm; sensor low voltage or not;
sensor connect to panel or not; the zone has accessories or not. Check the system's status clearly in time.
Answer alarming calls & Remotely make call to the alarm panel ( with voice prompt ) to start monitoring, voice

intercom, talk back, arm/disarm.

Answer calls like a cell phone.
Support wired and wireless siren.
Support CID protocol.
Factory reset.
Working power: AC/DC adapter, 100~240V, DC12V
Static current: <50mA
Alarm current: <150mA
GSM transmission power: 2W
WiFi Frequency: 2.4G, IEEE802.11b/g TCP/IP
WiFi sensitivity: receiving -86dbm, transmitting -18dbm
GSM Frequency: 850/900/1800/1900
Backup battery: 3.7V/1200mAH, standby above 12 hours
Wireless Frequency: 868/433MHz
Wireless distance: >100 meters
APP interface: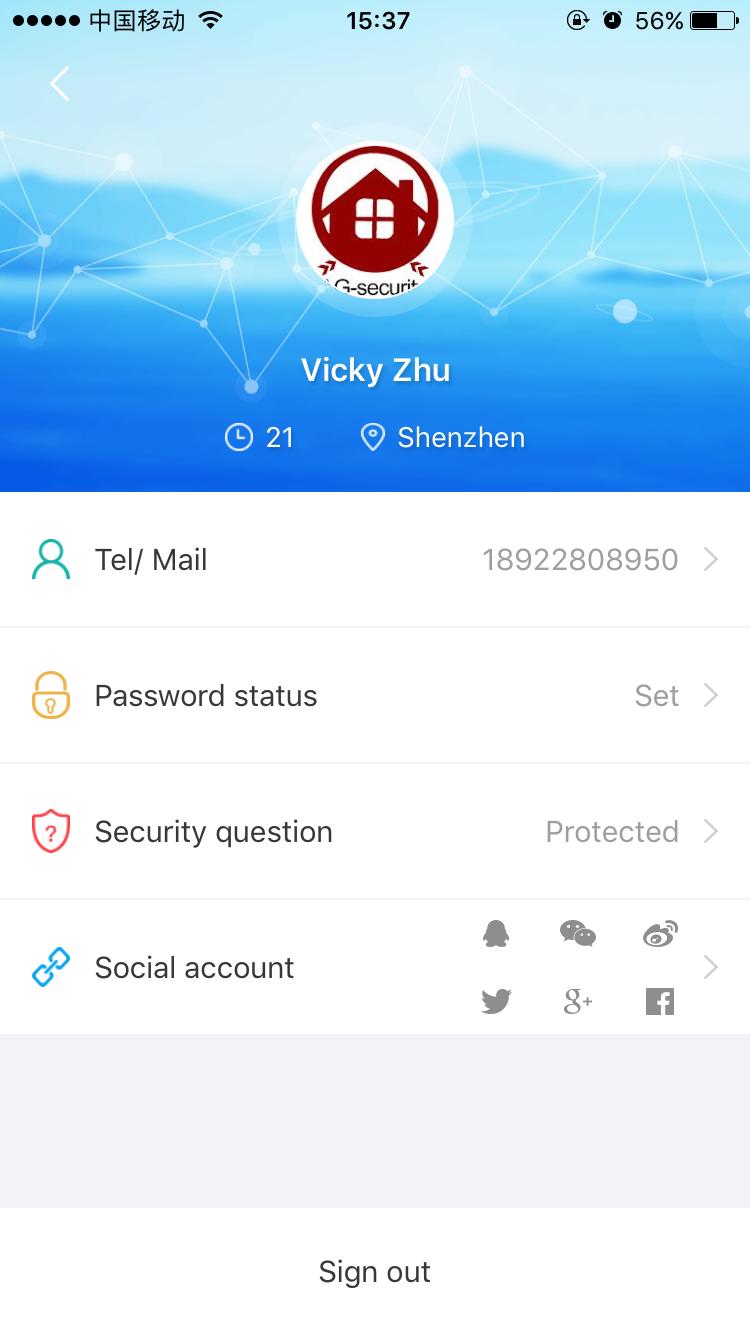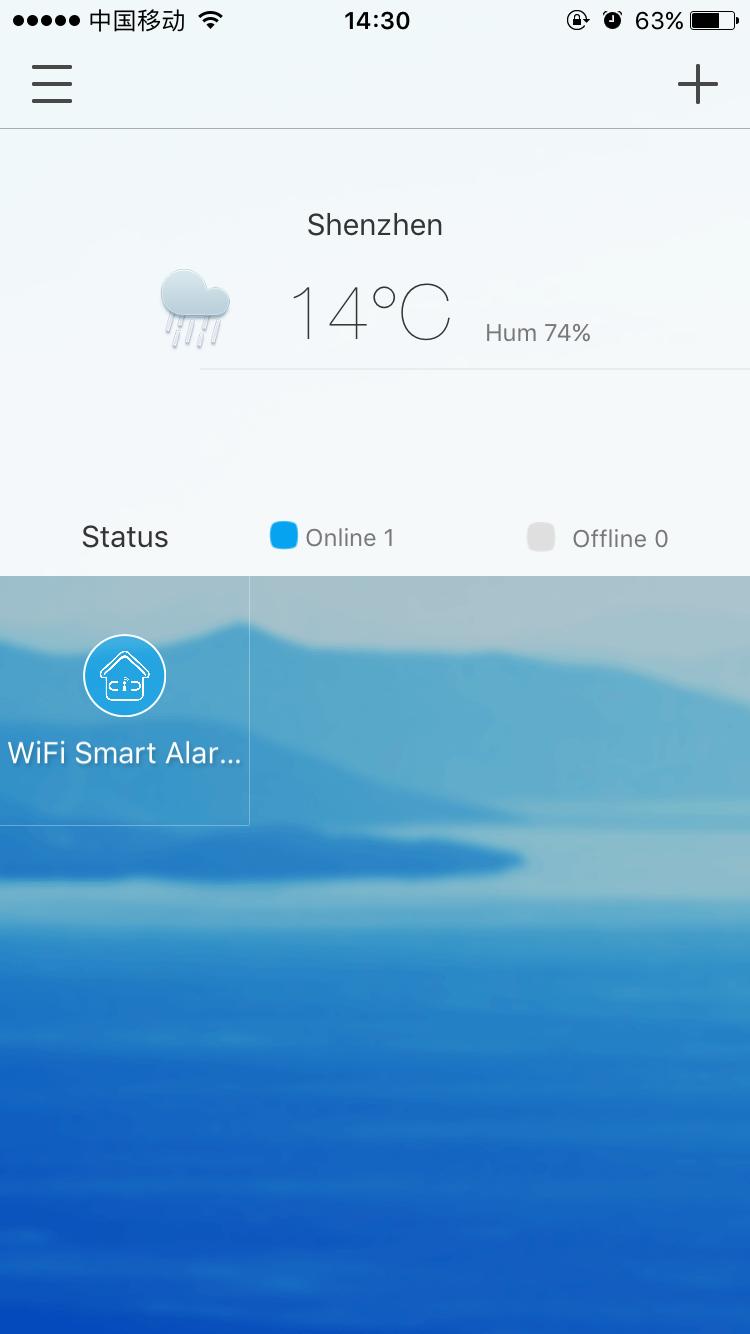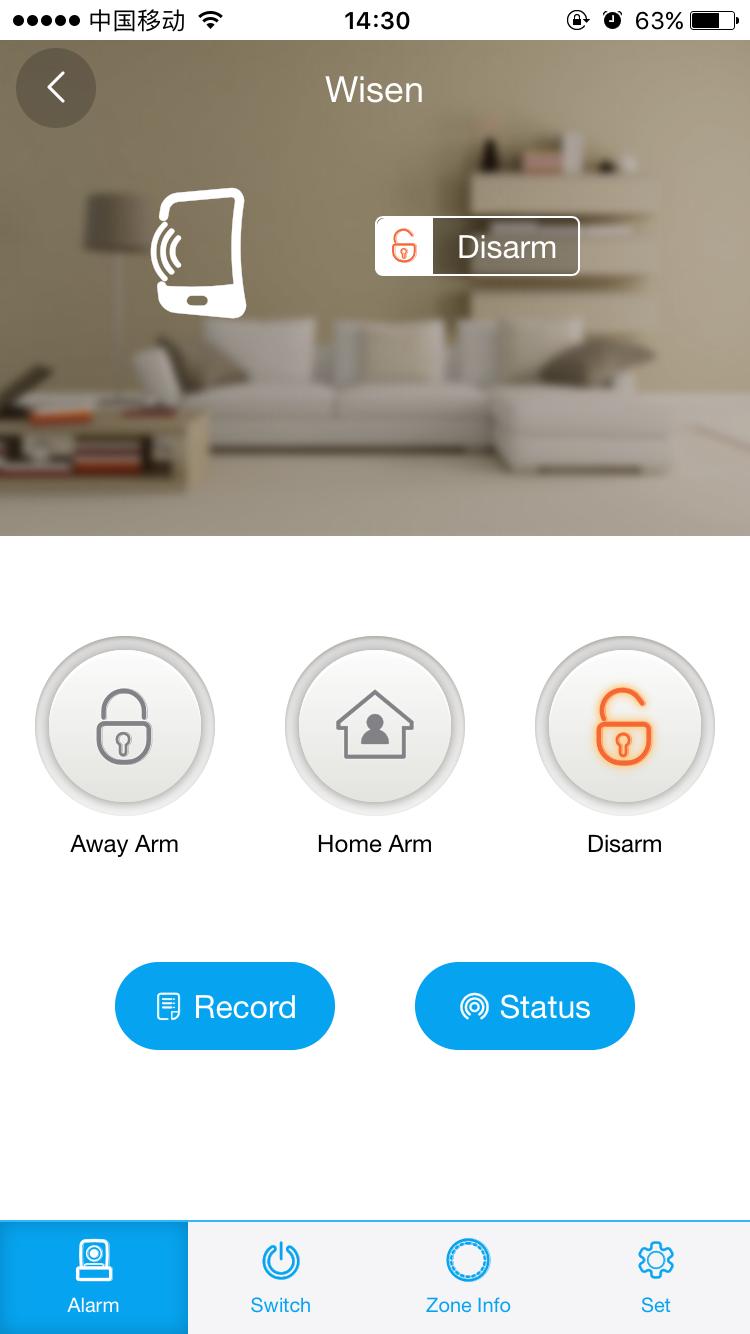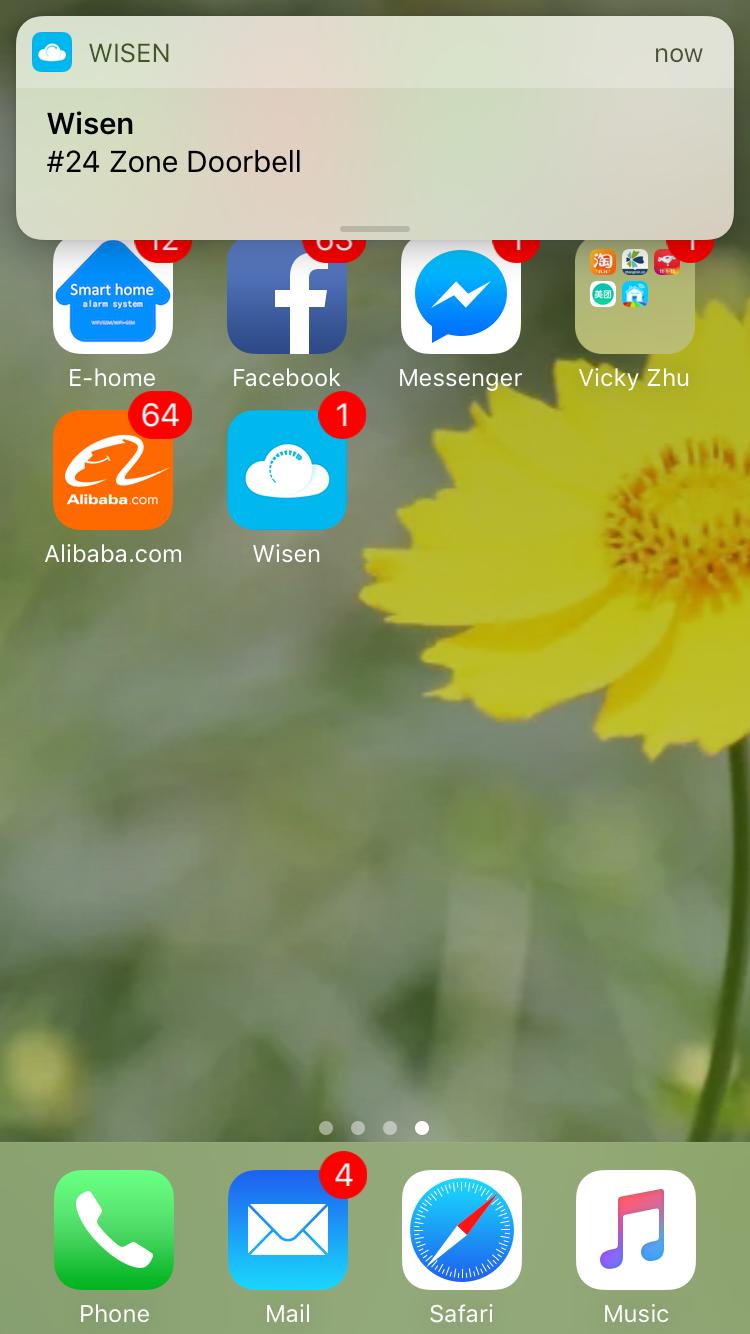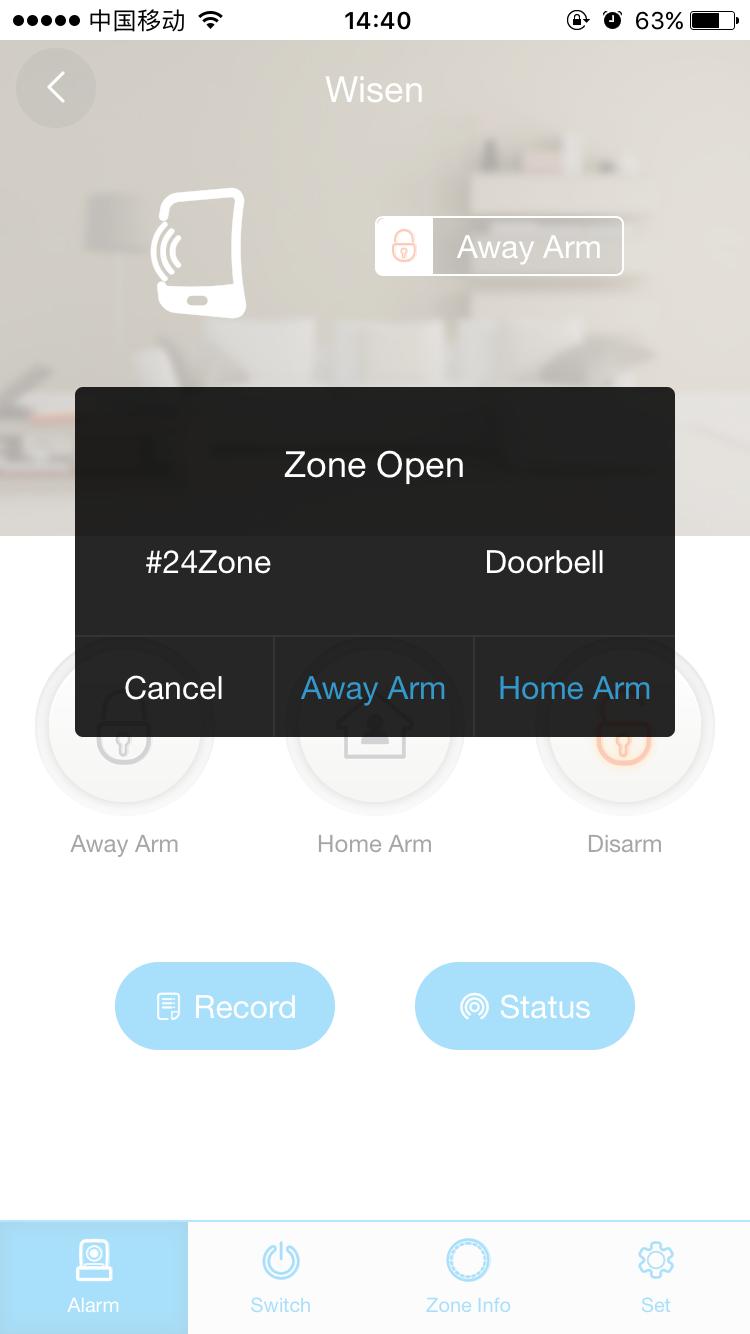 PICTURES SHOW: