Contact Us
>>Detail
Shenzhen Daping Computer Co., Ltd.
Email:
Office : +86-755-23322627
Tel/Whatsapp : 008613537897340
Skype : daping_securityfactory
Add 1:Floor 4,Xuming Science Park,1193 Guanguang Road,Guihua Community,
Guanlan Street,Longhua District ,Shenzhen(factory)
Add 2: FLAT B07 FLOOR23,HOVER INDUSTRIAL BUILDING,
NO.26-38 KWAI CHEONG ROAD,N.T,HONG KONG
Solar-Powered Wireless Outdoor Strobe Siren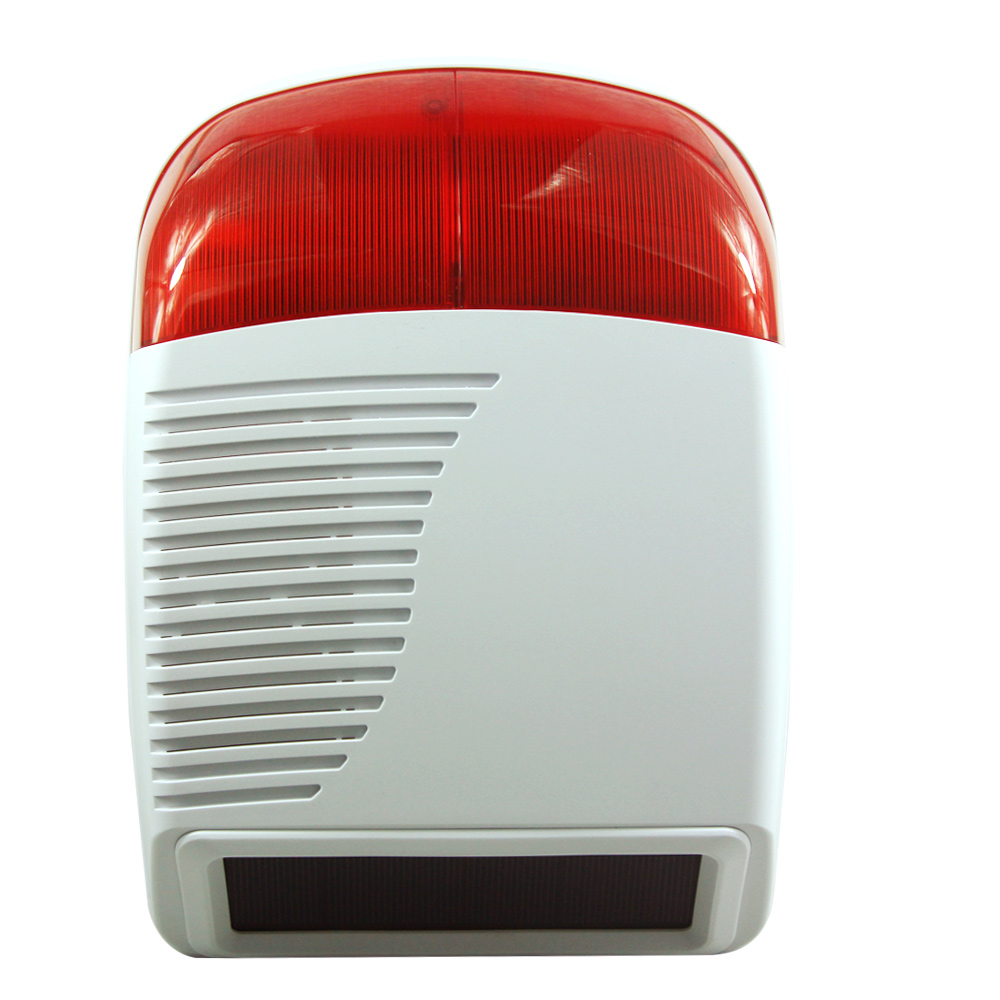 Instruction:
This multi-use Solar siren uses solar energy to power the built-in battery, can work as a live alarm host, wireless siren and wired siren. Wireless solar power, wireless signal transmission, it enhance the flexibility of installation. You can also build multiple wireless sirens at different locations to get alarms simultaneously to alert illegal intruders.

The solar siren can be used as a live alarm system without SIM card or telephone landline. Can work with 30 wireless detectors and remote controllers totally with same frequency.

The Solar siren should be installed where is the best for alarm and the the best reception for all wireless detectors. Pay attention that the siren should be as far as possible from the large metal objects or household appliances with high frequency interference; meanwhile, to avoid the shields of ferroconcrete wall and fire-proof door.
Specifications:
Built-in Lithium battery powered by solar energy

Work as a live/standalone alarm host, wireless siren or wired siren

30 wireless defense zones and remote controllers total

Two wired zones, can work with two wired detectors or wired alarm system

Alarm with both voice prompts and quick flash strobe

Wireless learning code:adding new accessories, convenient, safe and efficient

One-key-control function: Remote control to Arm/emergency alarm/disarm
Technical parameter:
Power supply: DC 3.7V (3.7V/400mAh rechargeable lithium ion battery)
Max output current from solar panel: 5V/150mA
Max alarm current: ≤170mA
Wireless receiving distance: ≥100m
Ambient Humidity: ≤80% (no freezing)
Standby current: ≤1mA
Standby period: ≥15days
Wireless receiving frequency: 315MHz/433MHz
Operating temperature: -30~70℃
Wired defense zones: 2 zones(Z0,Z1)
Anti-tamper: 1 (TMP)
Outline size: 262*195*61mm
Wireless defense zones: Total 30 with alarm panel, accessories and remotes together.